Before you begin
Choosing the right dildo
Here as Lucidtoys we have the right dildo for you, with a vast array of shapes, sizes and types of dildos as it is important in choosing the one that best for you and your desires. If you need extra sensations then check our vibrating suction cup dildos. If you feel you want to stretch, check our larger range of suction cup dildos.
Setting the mood
It's best to warm up before using your dildo, this means using manual stimulation before riding your dildo and don't forget to use lube.
Positions
Can be used in many positions, doggy style is the favourite with suction cup dildos, try attaching it to a sold flat surface like a wall or a headboard and backing onto it, make sure to set the height to your liking and control the angle, depth and speed to enjoy your dildo.
Try incorporating into your daily exercise, put your suction dildo on a horizontal flat surface and squat or sit on it, then you are free to bounce to your happy place. What's great about suction cup dildos is that they free up your hands to pleasure your clitoris with your fingers or using a vibrator to double your pleasure.
Bathroom
On the Shower wall is the best place for most of us! Plus it makes it easier to clean and let it air dry after each use. Just remember to use lots of water-based or hybrid lube.
Another place to be used while in the bathroom would be on the edge of your bathtub, this might be harder to pull off as the height of your bathtub will affect whether you need to stand or kneel while using your toy. Having half your body in and out of bathtub will bring a new challenge with different leg/knell length, so using kids footstool or cushions will help keep both sides in length of one another.
Try it on the toilet seat, this will give you the right height needed and it gives you the best of other two places in the bathroom to maximise the grinding.
Floor
You can stick your neojoy dildo to the cold hard floor! From there you can go at it on your knees or be more adventurous.
Where:
Shower wall

Floor

Furniture (chair / table legs / corners)

Door

Bathtub

Plastic chairs

In your hand (doesn't have to be hands-free)

Toilet seat

Mirror

Double penetration, 3 way (couples play)

Washer/dryer

Wall

Strap on (harnesses kit)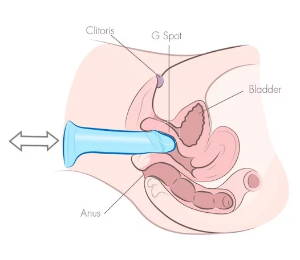 Short and shallow
The most sensitive nerve endings are in the first ⅓ of your vagina, so it not necessarily needed to thrust deeply to get the most of your pleasure. Short and rapid strokes are all is needed to avoid bashing your cervix.
Feeling it
It not necessarily too need motion to enjoy your lucidtoys dildos. You can find one that feels comfortable when inserted and keep it there while you stimulate your clitoris to pleasure with your fingers or use one of our neojoy clitoris toys.
Anal
Don't forget it can be used anally so you are not left out feels just remember to clean the toy before and after uses and use enough lube during use.
---