Why Buy From US?
Biggest Sex Doll Supplier & Stockist In UK

Why are our prices so low compared to our competitors?
We are able to cut out middle men and save on air shipping and many other costs that are added on when buying individually.
We are the largest stockist of dolls and bulk buy sex dolls, thus we can then pass the savings onto you. HUGE VALUE SAVED.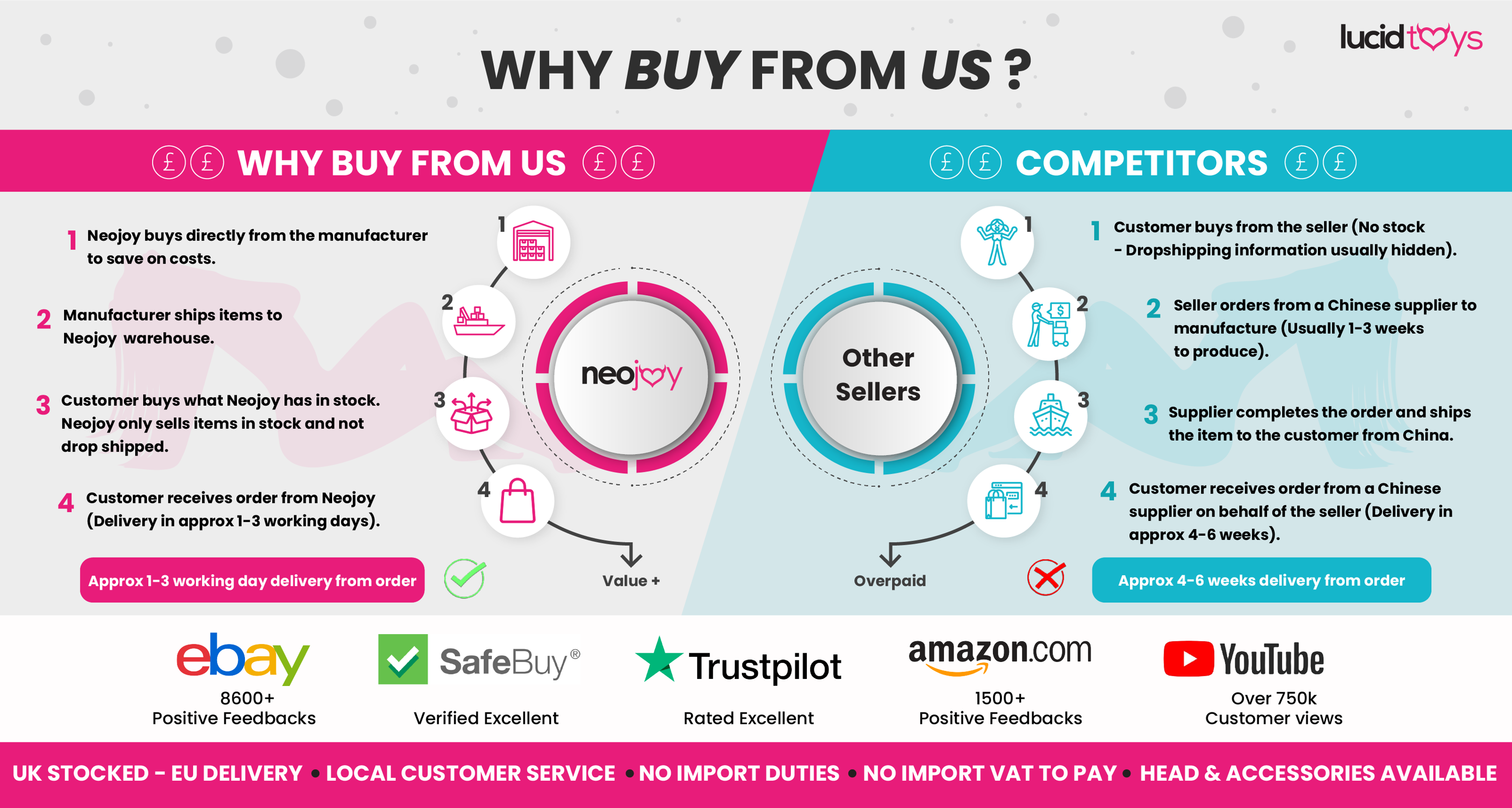 No
Why Buy From Us?
We have built Trust and value for our customers

All our stock is in Oxford, UK. WE ONLY SELL SEX DOLLS THAT ARE IN STOCK.


We are the biggest stockist of dolls at over 500+ dolls at any one time. We do not drop ship items from China to our customers. We inspect and dispatch all items from our warehouse that is in stock.

Our big advantage to having stock of sex dolls is that we can dispatch the Love Dolls next day depending where you are.


UK customer can receive their sex doll the next day if ordered before 2pm on the same working day. EU & U.S.A customers can receive there sex dolls in 2-3 working days if ordered before 12pm on the same working day. We provide tracking numbers on all orders dispatched so you can track your order. FAST 1-3 WORKING DAY DELIVERY.


UK customers can also purchase and collect their dolls from our warehouse. Collection Available In Oxford.


You can purchase your sex doll from us and let us know if you want a different delivery date. We can hold the love doll and dispatch it or change the delivery date you want. Delivery When You Want.

No Duties & No Import VAT

No Import duties or import VAT is charged for you to pay on delivery. Buying a Sex Doll from us is like buying any general Item online from us. While buying from a drop shipper can leave you venerable to import duties and import vat payment on delivery. NO HIDDEN COSTS.

Dolls Passed Custom Checks

We Only Sell Sex Dolls that are compliant with EU rules and regulations. All our sex dolls have passed border force inspections. Our containers have been held and checked and verified that they are free and clear for importation.
Buying Sex dolls from drop shippers or directly from Chinese suppliers can leave you venerable to customs checks. BORDER FORCE CUSTOM CHECKED DOLLS.

Each Sex Doll Is Inspected  

All sex dolls sold goes through our rigorous quality inspection. Every single Love doll is checked for faults so we catch them before we send them out. We check and take pictures of the hands, feet, body, and head. We even check to make sure the Love doll specs and look matches the pictures we use to sell.


If any faults are found, then we will contact you on the options available to resolve it. For example, we can exchange it for a slightly different spec doll, give a discount, or refund. We will never send a faulty doll out and will make sure we contact you for any problems. ALL SEX DOLLS QUALITY CHECKED.  

Our Customer service is in the UK and Germany. Our UK office handles our UK customers for their service needs and our German office handles our EU customer needs. We are able to handle your needs at the appropriate time when needed. We are available via email, our live website chat and telephone. Telephones and live chats are open from 9am-5pm each working day.


Many drop shippers do not have transparent contact us pages, any real form of contact or missing business details. Buying from us means you always have someone looking after you and dealing with your service needs in an open and transparent way. EASY HONEST COMMUNICATION.

Tired of the same head or body? Then just order parts from us to keep your love doll fresh and new. We sell Heads, bodies, eyes, Hair, lubricant, lingerie, and everything else your sex doll needs.


We have the same skin tones and have a variety of different looks to make sure all the parts fit your doll. We are constantly adding new heads and body to our inventory so you will have access to many different options. HUNDREDS OF OPTIONS AVAILABLE.   

Worried you wont like the doll once it arrives? We have an easy to follow guide to check and inspect the doll once you get it. Unlike many drop shippers, we can accept returns as we stock the dolls in our warehouse.


Each box comes with a return sachet inspection process to follow. Simply follow the instructions on how to check the doll. The sachet has gloves and steps on what to do.


If you feel that the doll and it is not for you, then you can simply contact us to get the doll picked up and returned. We will charge a small pick up delivery fee of £75. NOT SURE? EASY RETURN PROCESS.

We accept all major credit and debit cards. All payments show up as an anonymous name on your bank statement.


We use the following payment gateways to protect and offer you varied ways of paying: Shopify Payments, Paypal, Paypal Credit, Klarna.


No Paypal account is required to use Paypal as a payment method. Want to pay later? Paypal now offers 4 MONTHS 0% interest. (Subject to Paypal credit T&C).


With Klarna you can Pay in 30 days or Split your purchase into three equal payments. Pay in 3 interest-free installments. (Subject to Klarna credit T&C).


Not comfortable doing payment via the website? We can take your payment over telephone. Simply call us and let us know what you like to purchase.

All orders places are discreet and hidden. No one will know you have ordered a sex doll from us.


Each Love doll comes in a brown box with no indication of what is inside. All payments are discreet and a generic name will be shown on your bank statement. WE KEEP IT A SECRET.