It's really hard to choose just one vibrator when they all look and feel amazing. Do you want a bit of external fun? Are you looking for something to stimulate your G-Spot? Are you ready to enjoy the magic of double orgasms and deep penetration? Lucidtoys has something for everyone! This is why we picked our top 10 best vibrators - to make things easier for you.
Explore our ranges and test our clitoral vibrators, G-Spot penetrators, rampant rabbits or prostate massagers ranges, choosing the best ones for you or testing as many as you desire.
---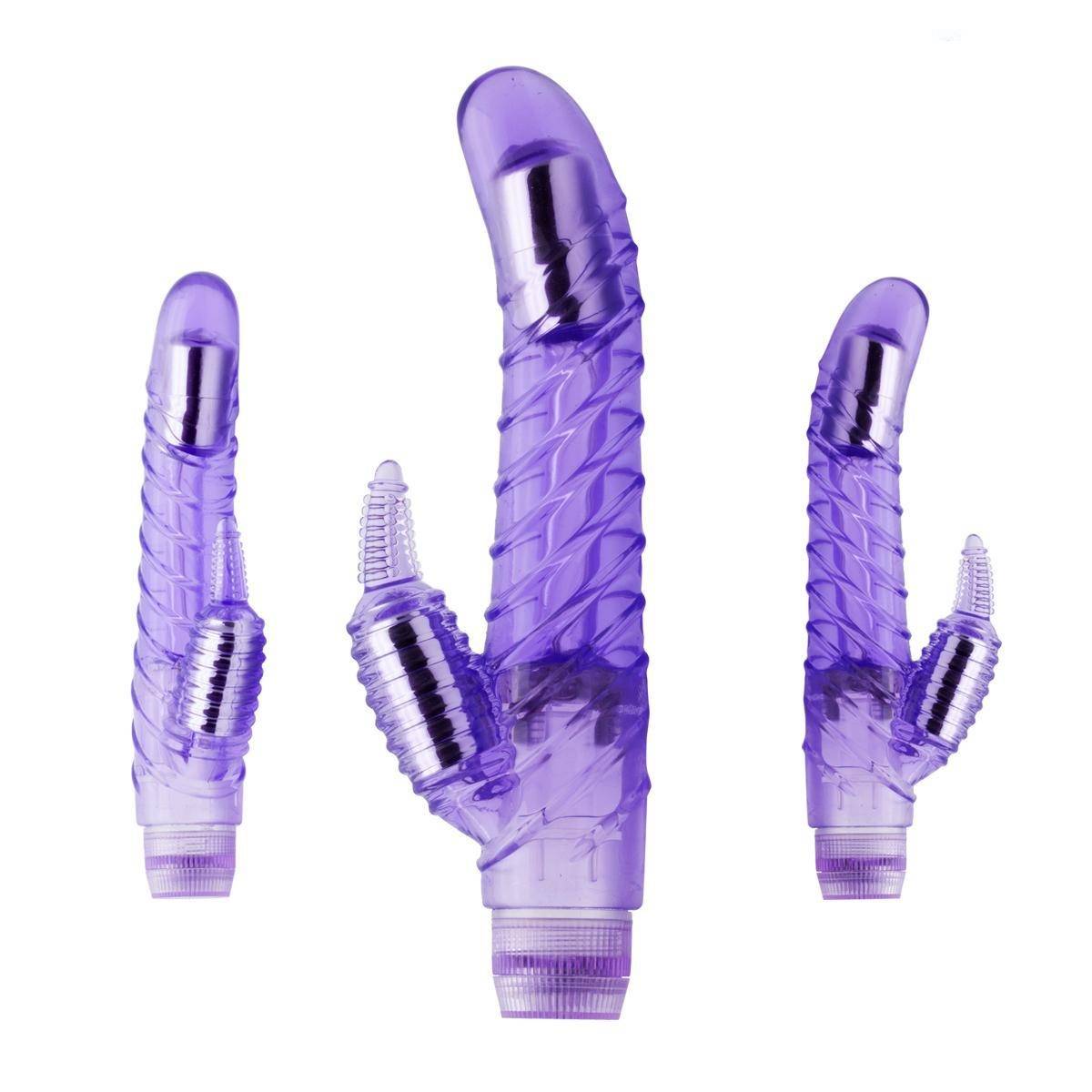 An indispensable toy in every woman's collection, this Rabbit vibrator can bring you double stimulation and extra pleasure, being the perfect tool for a sex toys novice.
With an interesting design, this 19 cm dual vibe offers a slim shaft (2.5 cm diameter) and is perfectly shaped to hit your G-Spot.
Highlights
Innovative design, with stimulating shafts.

Made from Jelly TPE - Soft & flexible

On/Off vibration modes.
Ideal For:
Beginners and intermediates

Clitoral and vaginal orgasm

A first sex toy user.
Customers Say:
"Damn, that's strong. For a jelly vibe, this Rabbit shook my body. Quite girthy, too, so I use it with lube to ease it in. Amazing for the price I paid."

Get the best of both worlds with the dual penetrator - with two slim shafts that will slide into both of your love openings, stimulating them simultaneously and helping you reach Nirvana.
Highlights:
Made from TPR - flexible but firm at the same time.

With intense vibration speeds.

With dual shafts, for anal and G-Spot penetration.
Ideal For:
A beaded anal play.

Exploring double orgasms.

Switching from one shaft to the other.
Customers Say:
"Once inside my girlfriend it only took a very short while to bring her to a screaming orgasm. It's soft and flexible which makes insertion a breeze and it a great size for beginners if they are first-timers to double penetration."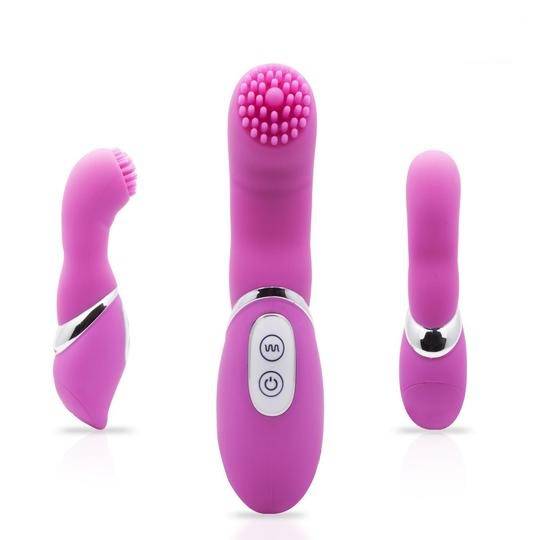 Ladies' best friends and guys' number one ally in clitoral incitement. A silicone-made toy with fun vibrating options, perfect for external massage and gentle caresses. Spice up the foreplay or use it during intercourse, for more intense orgasms.
Highlights:
Silicone made, for a skin-safe use.

With clitoral ticklers, perfect for rubbing the clit or the nipples.

7 Powerful vibration modes.
Ideal For:
External stimulation.

Enhanced foreplay.

Clitoris and nipple stimulation.
Customers Say:
"My partner absolutely loved this as I worked through the speed settings until it was on the highest speed and after writhing in ecstasy, quickly came in no time."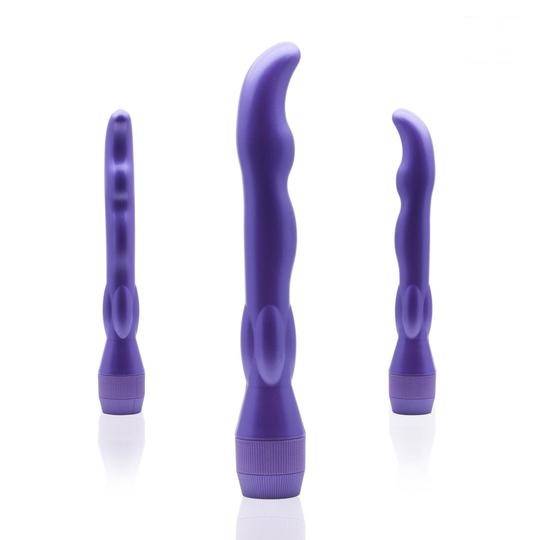 With a curvy and wavy design, complemented by a super slim shape, this solid ABS vibrator was designed to help you locate and stimulate your G-Spot with its intense vibration modes.
Highlights:
Solid, slim and wavy.

Silent and discreet.

Travel-friendly, perfect to be carried in your purse.
Ideal For:
Sex toys newbies.

G-Spot stimulation.

Solo and couple play.
Customers Say:
"The shape is just absolutely perfect for my body. Hits the spot effortlessly. Soft silicone and vibrates. Has a curve at the tip, maybe that's why it feels so good."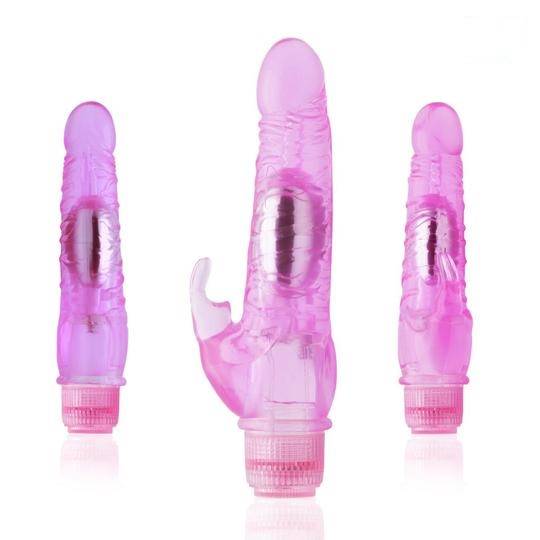 Chubby, soft and powerful - this jelly rabbit vibrator promises to fill you up with its joyful vibes, hopping and buzzing until it'll make you climax. With a girthy shaft (4 cm diameter) and a generous length (22 cm).
Highlights:
Realistic shape. with glans head and raised veins.

Clitoral bunny shaft for external titillation.

High/Low vibration speeds.
Ideal For:
A deep internal penetration.

Realistic stimulation.

Clitoral and G-Spot orgasms.
Customers Say:
"The perfect shaft and a super intense vibration. I like the jelly texture - very easy to insert and gentle with my day parts."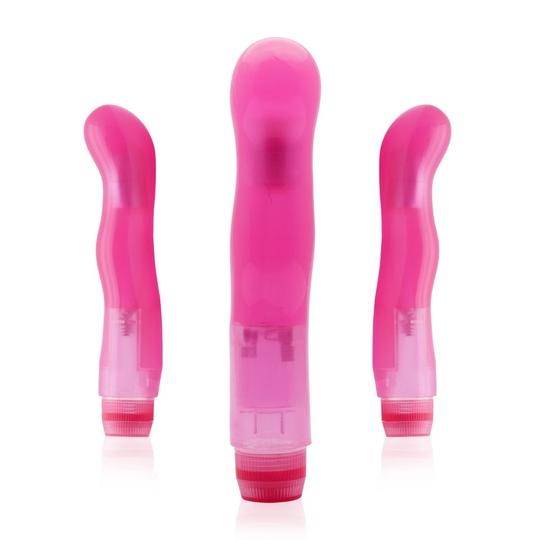 Super soft, easily squeezable and insertable, this wavy vibe has been specially designed to slide inside your sweetest areas and find your G-spot, hitting it with positive vibes and providing you with toe-curling orgasms.
Highlights:
Curvy design and a head shaped for G-Spot stimulation.

Soft texture, making it comfortable to be inserted.

Easy to control vibration speeds.
Ideal For:
G-Spot stimulation.

Beginners and intermediate users.

Vaginal wall massage.
Customers Say:
"For the price I paid, this toy deffo does the job. I normally go for jelly toys, as I find it easier to use them (maybe because of their softness and high flexibility), so I really liked the design of this one. Wavy and stimulating."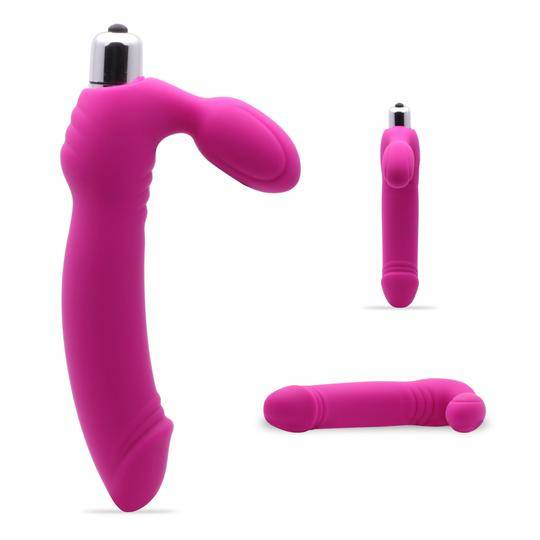 Share the Oh's and Ah's with your significant other. This double vibe is not only velvety smooth, but it's also a great fun provider. Use it for solo masturbation or as a strapless strap-on, for some girl-on-girl action.
Highlights:
Dual shafts for couple play.

Generous size (14 cm insertable and 2.5 cm diameter)

Internal vibrating bullet.
Ideal For:
Pegging and riding.

Lesbian couples.

G-Spot penetration and pelvic training.
Customers Say:
"Whether I choose to use it by myself or with my partner, I always get these crazy, leg-shaking orgasms. AHMAZING PRODUCT!"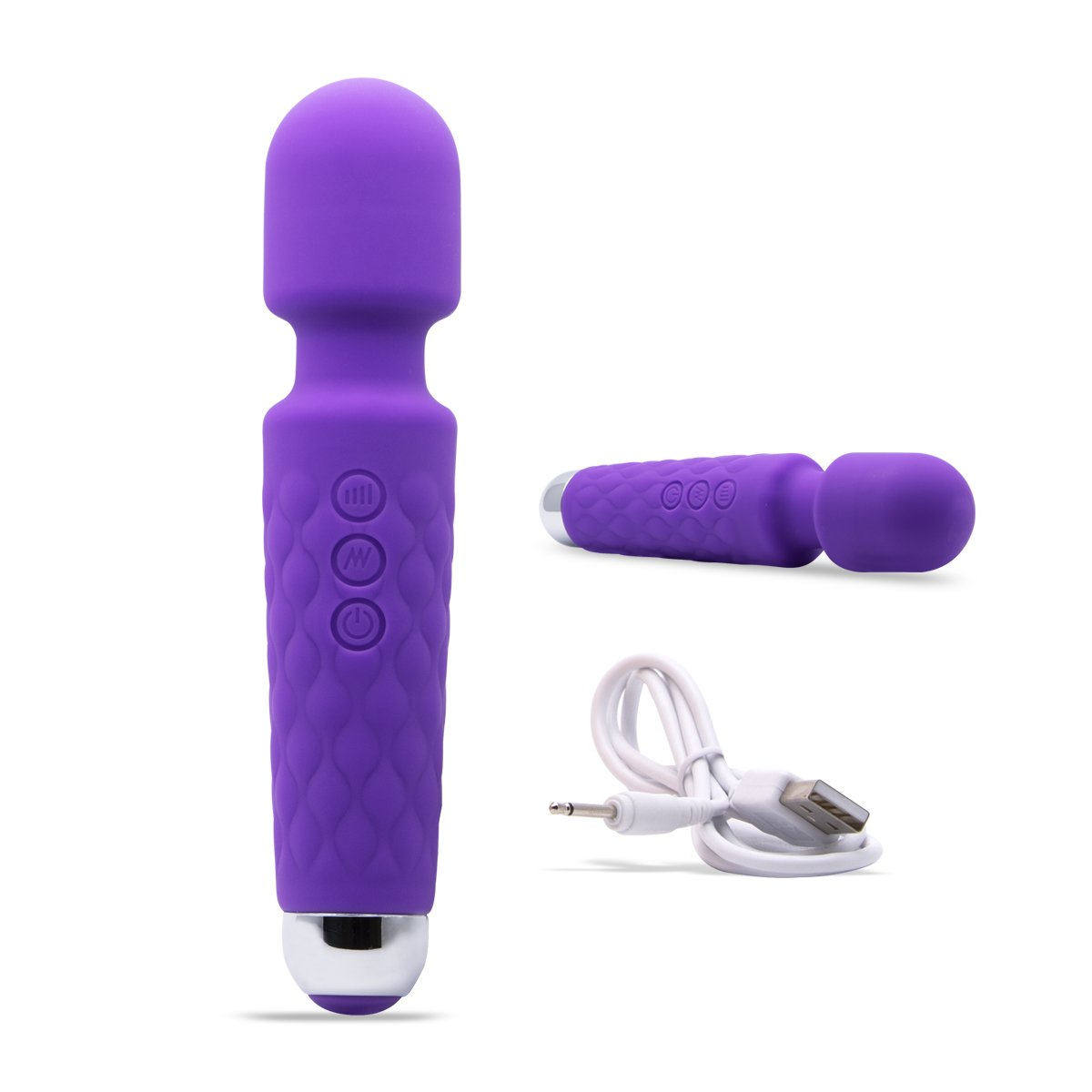 Add a bit of magic into your sex life. Whether you use it for a full body massage or for a bit "naughtier" purposes, this wand vibrator features a perfect shape and extraordinary vibration modes, helping your entire body relax under its magic touch.
Highlights:
Silky-smooth silicone texture.

USB Rechargeable

With 20 Vibration modes to choose from.
Ideal For:
Clitoral and vaginal stimulation.

Full body massage.

Couple foreplay.
Customers Say:
"Oddly enough, one of my mates said his missus uses this for his backaches, so I ordered one just for this purpose and it does the job. The vibrations have a calming effect on my tense muscles and I found myself sleeping better after using it regularly."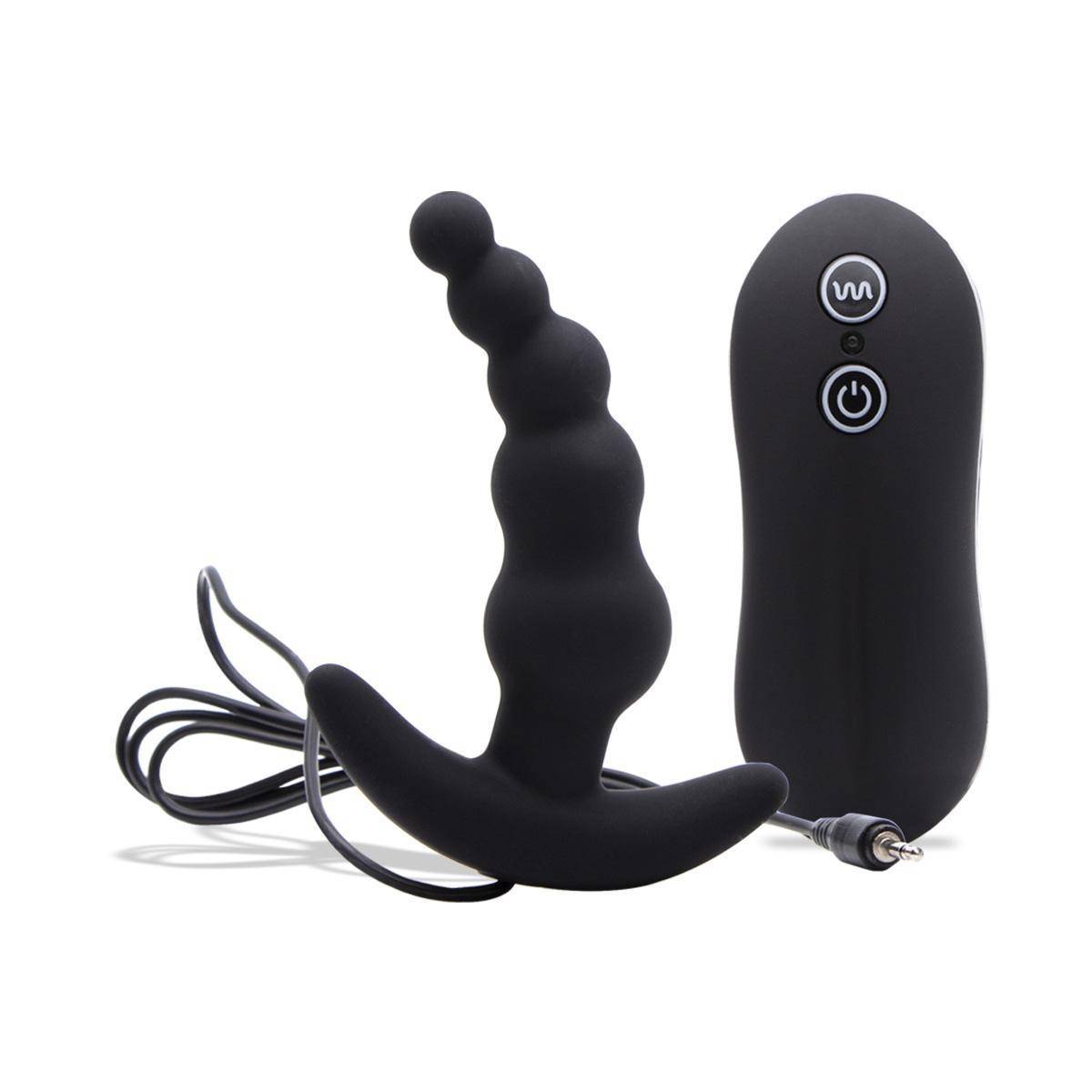 Control your anal fun with this beaded prober - help your anus expand, taking extra girth and providing you with earth-shaking orgasms. A silicone toy which features a remote control, making it a perfect tool for couples.
Highlights:
8.8 cm insertable, with a diameter large enough to fill you up: 2.6 cm.

With 10 vibration modes, for intense sensations.

With a simple to use remote control, for couple fun.
Ideal For:
Spicing up the bedroom action.

Anal play newbies and connoisseurs.

Prostate massage.
Customers Say:
" Extraordinary shape. It's waterproof and perfectly easy to utilise, decent weight, great, can hardly wait to try it again soon. Recommend this to everyone!!!"

Last on our list, but definitely not least, this G-Spot vibrator is, by far, one of the most stimulating G-Spot toys. Perfectly shaped to caress your inner walls, this solid vibe is gentle with your skin but powerful enough to make your toes curl.
Highlights:
25 cm total length and a generous 4 cm diameter.

With 12 vibrating functions.

Magnetic rechargeable.
Ideal For:
Intermediate and advanced sex toys users.

Deep G-Spot stimulation.

Underwater penetration.
Customers Say:
"At 50+ years old and more than half of my life with the same woman, I wanted to do something to keep my lady happy and satisfied.
I wanted a g-spot vibrator that could help me give her the little extra she needed. "Spice it up", as they say. Never felt younger, honestly. Seeing her happy and satisfied was all I needed. Our neighbours are probably mortified, but I couldn't care less."