Introduce Sex Toys to Your Relationship
Do you think that your sex life needs more variety or new momentum? Then you've probably already thought about including sex toys in any way. It does not always have to be all Fifty Shades of Gray-ish. If that's too much for you, keep in mind there are a lot of toys, such as vibrators, anal toys or just cock rings for trying new positions. If toys come into question for you then the inhibition threshold is certainly much higher and you might have to reconsider using them.
How should I do that?
Do I appeal to my love of sex toys right at the beginning of a new relationship, or do I desire to do so later? However, you should cautiously address the topic. Honesty lasts the longest and helps building solid relationships. These are phrases, but certainly true. You should be aware that sex toys will improve both of your sex lives; not only yours but also your partner's. If you always have the preferences of your partner in view and paying a lot of attention to them, then you are already a good step further.
You should address the topic casually. If in any everyday situation a bridge can be made, steer the conversation in the desired direction. If you notice that your counterpart does not respond, then do not drill on. Try it again. Over time, you can gradually find out his or her view of sex toys without having to ask directly. Who knows, maybe this will be the result of a casual situation. Maybe your partner is just as scared of talking about the topic as you are!
Tip: Just make an unfinished gift. Decorate your actual gift with a mini-vibrator or use a penis ring to roll the napkin at the breakfast table for their birthday.
Many people may have misconceptions about sex toys and may only think of sex dolls for men or giant dildos for women. But that's just a small part of the market. With our little vibrators, you can do a lot more than just using them for clitoral masturbation. They are equally suitable for massaging the whole body and great in the sex game build by sliding slowly from a vibrating massage to the main act.
Whatever you do to address the subject, and whatever toys you suggest or actually try out, make your partner always feel that you are basically happy with your sex life, but also make it clear that you are open to something new and just want to try other things. Because only those who have tried can actually have an opinion about it.
How do you use sex toys together?
Start your journey into the world of sex toys best with small utensils, such as the initially described small vibrators, ticklers or penis rings. You can boost yourself in all directions if you both really like it. Also browsing in our shop together is more fun!
Although the categories at Lucidtoys are differentiated according to women's and men's toys, there is a whole range of toys on both sides that are just as suitable for playing with a partner. Do not forget to order a bottle of lube. Its use is recommended for all toys. Whatever you decide: the fun and the safety are always at the top. Just do what you both like and then always clean your equipment with warm soapy water. Keep all utensils safe and dust-free in the cupboard or a box.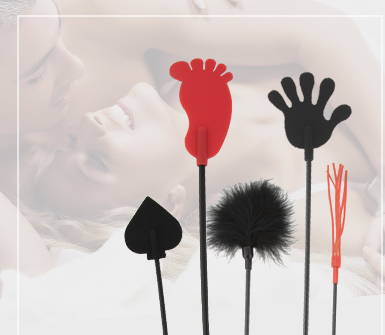 What works and what does not work?
Top:
Speak openly about your wishes

Respect concerns or rejection of your partner

Decide together what you want and when you want it
Flop
Falling into the house with the door and placing a toy directly on the table

Hiding your wishes and thus becoming unhappy

Not buying your sex toys from Lucidtoys.com
---