How to Choose the Right Sized Dildo & More

Whether or not you choose a vibrating or non-vibrating dildo, choosing the right size for you and/or your lover will determine how pleasurable the experience will be. The guide below will provide you with some insights into making sure you get the right fit.
The right size dildo is a subjective choice for each person, therefore, finding the perfect dildo for you and/or your lover is going to be based on your personal preferences. In addition, having an idea of how you wish to use the dildo will help you better determine the sexual goals you wish to achieve.
We suggest using a simple finger test before deciding on a width. Using your fingers, insert what is comfortable. Then measure the diameter and/or circumference to determine the comfort level of stretching. To measure the size of fingers you desire, place a tape measure around them to determine circumference or use a ruler to determine diameter. If you do not have a tape measure you can always do an Internet search for 'print out tape measure' and you can print one out on a piece of paper.
As for length, we will remind you that both the g-spot in a woman and prostate in a man are located only 2.5 - 3 inches inside (may vary slightly in some people). Therefore, it should be noted that long dildos are not always what people desire. In fact, that is why shorter, curved dildos are so popular as they help to reach both the g-spot and prostate more effectively and the curve stimulates with pleasurable pressure. That is not to say that some do not prefer longer dildos, just make sure you keep in mind what your sexual goals are when you select both the diameter and length.
Diameter Vs. Circumference

Remember the difference between circumference and diameter when assessing how large your Neojoy sex toy is going to be. Often these two measurements are confused, so being clear as to how wide versus how far around a product is can make a huge difference.
Bigger is Not Always Better
One of the most common mistakes is assuming that bigger is always better. If the Neojoy dildo is too long it can hit the cervix of your female lover and cause pain and if it is too wide it can cause uncomfortable vaginal or anal stretching. On the other hand if it is too small it can not be as satisfying or provide enough stimulation. That is why it is always a good idea to have a sense of what is comfortable for you and/or your lover rather than assuming that any size will be fine.

The term 'realistic' refers to the shape and design of the dildo. A realistic dildo looks similar to a real penis, however, it has nothing to do with size or color for that matter. Some people make the mistake of thinking that when a dildo is marketed as realistic that it is describing the size of an average man's penis. The reality is that typically the opposite is true as many realistic shaped dildos are quite large and are much larger than most men.
Make sure that you read and understand what the dimensions are when they are listed in the product description and how that translates into what you or your significant other desires.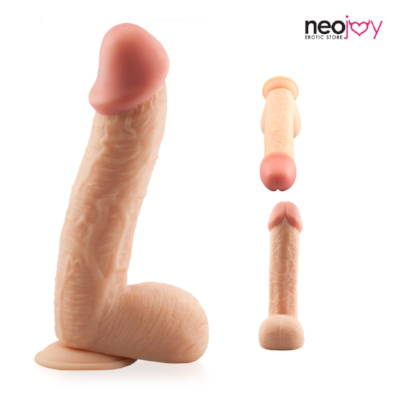 How to Use a Larger Dildo

To use a larger Neojoy dildo make sure to use a lot of lubricant, go slowly and to listen to what your body is telling you. If you begin to feel discomfort you should stop, re-apply more lubricant and be more gentle. If it is still uncomfortable, you should try starting with a smaller dildo and work your way up to your desired goal size.
How to Change the Size & Functions of Your Dildo

If you have a dildo that it too small for you in width an easy way to make it wider is to add a penis sleeve to it.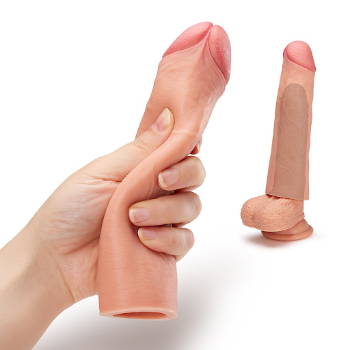 If the length of a dildo is too long, you do not have to insert the dildo the entire length and can even use Neojoy cockrings to shorten their insertable length.
---